Apple's Lightning connector might be able to host USB devices
4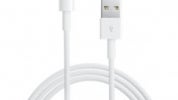 The shrunken new connector on the iPhone 5 that Apple calls Lightning might be a pain in the neck when it comes to hooking older accessories, and the need rises for a
not-so-cheap adapter
, but it reportedly comes with the pretty cool feature of a USB host.
We have had this capability on the iPad, via Apple's Camera Connection Kit, but not on Apple's handsets, so hopefully now we are getting it there too.
The USB host function of the Lightning port will allow for external peripherals to be hooked up to your
iPhone 5
, such as keyboards, cameras and so on, in case that need arises.