Apple releases new ad: "More people connect face to face on the iPhone than on any other phone"
39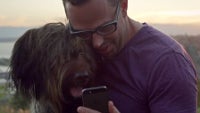 Apple has just released a new TV ad for the iPhone touting its FaceTime application and the smooth and easy face to face chats it allows.
The commercial basically shows all sorts of people making that hugely important connection with video, and contains little narrative. It fits well the Apple idea of ads highlighting all cool uses of a certain feature in a calm tonality without bashing other companies.
Of course, Apple takes great pride in what it does with the iPhone and it just has to underscore this in the closing line:
"More people connect face to face on the iPhone than on any other phone."

source: Apple