Apple projected to sell 28 million iPads and 52 million iPhones next year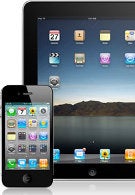 A bank analyst from UBS has projected some mind-blowing sales for Apple's most sought-after gadgets next year. In 2011, he thinks that the iPad will sell in 28 million units, and the iPhone will total $52 million pieces moved off the shelves. The iPad sales volumes are already beginning to worry the PC industry, as it is biting not only from the netbook, but also from the laptop market.
The analyst goes on to raise the target stock price tp $350, praising Apple's spirit of innovation, but it is unclear if he is including an eventual next version of the iPhone next summer, or the calculations are based solely on the existing iPhone 4. In both cases, we can only agree that Apple will be
posting record earnings
for a few more quarters now.
Apple iPad Review
Apple iPhone 4 Specifications
|
Review
source:
BGR