Apple in numbers: Infographic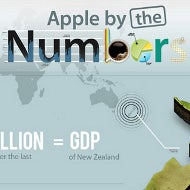 Well, now everything has been put together and displayed in a nice infographic, making the rise of the planet of Apple that much more breathtaking, considering it doesn't sell a necessity like oil.
It is also not a financial company with 1:30 leverage shuffling electronic paper around, but operates in the fickle consumer electronics business.
Our favorite stat is that the cash it has can buy Twitter, RIM, Nokia, Netflix, Adobe and add a carrier to it like T-Mobile, then still have money left over for its
new dividend program
for shareholders.