Apple iSlate specifications revealed
22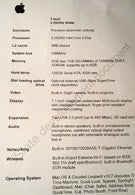 You know that people interested in the mobile industry are talking about a
presumable Apple tablet
right now. You also know that this tablet may be called
iSlate
and could be
announced on January 26
. However, you do not know what the specifications of the device are. Well, that's about to change… now.
7.1-inch
multitouch display with fingerprint-resistant coating, 2.26GHz Core 2 Duo processor, 2GB DDR3 RAM, 120GB hard drive, built-in projector… actually you can check the list yourselves. We cannot be sure if that information is to be trusted, but if we are lucky enough… boy, won't the iSlate just rock?! To top it off, according to these docs, Apple's tablet will run on the new Mac OS X 10.7 Clouded Leopard platform that will allow for touchscreen functionality and will bring a new widget-based homescreen. So, it now seems that the only thing left to do is hope this info is real and that the device will sport a 3G receiver so you can surf the web anytime you want. We already have our fingers crossed for a January 26 announcement of the Apple iSlate.
Thanks, anonymous tipster!