Apple iPhone for Germany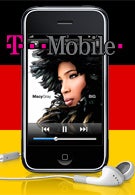 In addition to the announcement yesterday, Apple announced that T-Mobile will exclusively offer the Apple iPhone in Germany. They will get it at the same date as the UK, November 9 and the price for the customers will be EUR399 or about $560. Just to remind you, O2 in the UK will launch it for J269 or about $540 while AT&T in the US is currently offering it for $399.
With announcement for the UK yesterday and for the Germany today, probably tomorrow Apple will announce the iPhone for France and the rest of Europe?
source:
Apple