Apple iPhone 5C to come with pre-shattered glass, tells America's finest news source (video)
12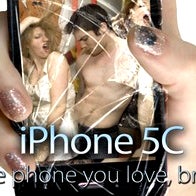 We know about breaking in a pair of new shoes, but breaking in a new smartphone? Yet this is exactly what the Onion suggests Apple will be unveiling next - an
iPhone 5C
with screen that has already been pre-shattered in the factory for your convenience.
The handset is targeting the female college crowd, and is "
the best new iPhone since you broke your last iPhone,
" according to Apple, err... the Onion. Since the device already comes with a cracked screen, you can't actually break it any further, is the logic here.
"
The phone you love, broken,
" is the device's commercial slogan, and there is even the obligatory Tim Cook statement on the release, according to America's finest news source.