Apple iPhone 5: a fun tale of the benefits of tall and taller displays
39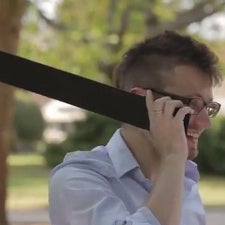 The
Apple iPhone 5
is advertized as being the
"biggest thing to happen to iPhone since iPhone,"
but looking at the screen, you'd think it's actually the tallest.
A parody of the iPhone 5 promo video takes tall to the extreme and shows the surprising benefits a super-tall iPhone would give guitarists and panorama picture lovers. And who knows, if we are to trust the countless spoofs of the taller iPhone, we might well see such a device (not really).
Also, take a close look at the man playing the iPhone guitar on the street in the video. Looks familiar? That's Bobak Ferdowsi, the NASA engineer that became an Internet sensation at the Mars Curiosity rover landing with his haircut.
source: Satire via
Gizmodo