Apple iPad used in trick shot where bullet is fired at a machete, splitting it in half
7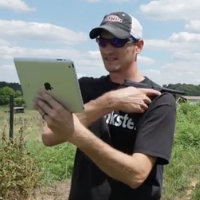 We've seen the Apple iPad used in various ways, but this just might be a first. With inspiration from the movie
Lucy
, which is about a woman who gains full access to her brain, a guy fires a .22 caliber gun at a machete with the blade facing the shooter. The bullet is split in half by the machete, and the resulting shrapnel pops two balloons.
The shot is made twice successfully when all of a sudden, an Apple iPad comes into the picture. This time, our shooter is facing away from the target, using the tablet as a mirror.
With the iPad in one hand, can our hero get the bullet to to hit the machete, get cut in half, and strike the two targets? No spoilers here, folks. For the answer to that question, simply click on the video below!
source:
RatedRR
via
Gizmodo