Apple iPad mini preorders to start October 26, shipping date set for November 2
7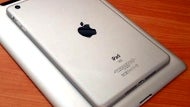 What's small and colorful and can run hundreds of thousands of tablet-tailored iOS apps? Why, the rumors about an
iPad mini
, of course.
Apple already set a date
, next Tuesday, for a launch event, and the overwhelming proof is for a smaller, cheaper iPad to show up there.
After the announcement fanfares subside on October 23, the preorder excitement will start on Friday, the 26th, and, as usual Apple's launches go, shipping for the latest disruption in the small tablets realm will start November 2, a week after the preorders start.
This has been disclosed by sources who were right about the iPhone 5 launch date, and it is not hard to deduce anyway, considering it falls in line with most Apple mobile product launch timings so far.
Recommended Stories