Apple iPad 2 hits FCC in a timely fashion for March 11th launch
1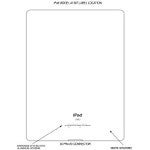 It was just yesterday when Apple announced the iPad 2 and mere hours after, the slate hit the FederalCommunications Commission (FCC) to pass all of the comission'srigorous testing. The official papers revealed that there will bethree versions of the device:
- the Wi-Fi-only A1395
- theAT&T-bound A1396
- the A1397 forVerizon'sCDMA network.

So much for those rumors of a single device forboth carriers! AT&T's HSPA+ network and Verizon's LTE don't seemcovered in the filing, so it looks like the new iPad will rely solelyon 3G networks. It's coming out in a week, so we'll know all thedetails around that time!