Apple caves in, removes the Wikileaks app from the App Store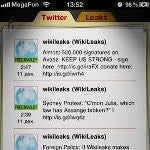 Oh, peer pressure, thou art a lousy motivation! Recently a specialized Wikileaks app appeared in the App Store, allowing to browse through the whistleblowing website's content. There was search, Twitter feeds, and the app notified when something new got posted, all in an iOS-friendly format.
No more, though - after a bunch of companies pulled the plug on Wikileaks, Apple caved in under the peer pressure, and withdrew the application from its App Store. Hopefully this won't result in any DDoS attacks towards Apple's site or the App Store, but obviously the company doesn't want to stir up any political controversy with Uncle Sam either.
via
Pocket-lint