Apple allegedly telling suppliers to prep for the iPad 4, coming mid-2013 with two-chip LEDs
34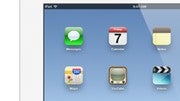 Those all-knowing "supply chain sources" are chiming in for something so far out in the future as the next generation iPad. Well, for us it seems far out, but Apple undoubtedly has a very good idea what will go into their next iPad unit, so it has allegedly warned suppliers to start prepping with new equipment.
The next-gen iPad will reportedly feature the same 9.7" screen size, but the "Resolutionary" display which be much simplified, with half of the 84 LED units needed now for the backlighting, which complicate the design and consume battery life. The 2013 iPad will be using two-chip packages instead of single chip ones for those LED lights now.
This should lead to reduced power consumption and more internal room, which we have no doubts will be used by Apple to stuff some top-notch features and hardware, or an even bigger battery inside.