Apple France raided by antitrust authorities for alleged 'abuse of dominance'
38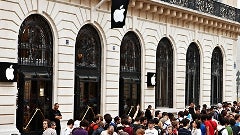 Oh, France, the country where
iPhones get stolen by the truckload
, and
Apple Stores burglarized on News Year's Eve
, what else will Cupertino have to endure from you?
Well, it seems now it's the government's turn to be miffed, as French authorities have reportedly raided Apple's offices, seizing documents in the span of 24 hours. The investigation is coming from the country's antitrust regulators, as there are suspicion Apple is favoring its own stores against exclusive 3rd party distributors, which have trouble sourcing the latest and greatest.
Shocking, we know, but the French are pretty serious about the level playing field, as they are also looking at the iOS store in its newspapers and magazines section, which jacked up the subscription prices last year, not to mention that Apple was ordered to pay $6.5 million in back taxes for copyright works of local authors.