App Store to remain pure, Playboy magazine coming only as web subscription
1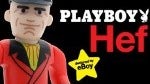 Okay, we have to admit it– Hugh Hefner tricked everyone, us included, with his Twitter announcement yesterday about an upcoming version of the Playboymagazine for the iPad. Concerned parents can now sigh with relief –the App Store will remain pure.
However the lack of an appdoesn't mean lack of content, as Playboy will offer a web-basedsubscription service to all of its uncensored issues, which will becompatible with the iPad. While still bringing the same content, themagazine will not technically breach into App Store territory.
Jeff Bercovici, aspokesperson for the notorious magazine, denied the rumor in a Forbesreport. The news spurred speculations ranging from Steve Jobs'absence to a new App Store policy, but the strict rules forpublishing in Apple's mobile market seem to remain the same.
source:BusinessInsider
Recommended Stories