Android version of official White House app joins iOS version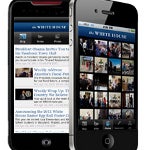 What a day for equality in the Android Market. As we
reported
early on Tuesday, the CNN app that turned Android users green with envy over its long time appearance in the App Store, became available in the Android Market. And on Tuesday, the official White House app, a App Store exclusive since January 2010, also joined the Android Market as a free download.
The app offers videos and pictures of presidential happenings, news of events, announcements and press briefings. Some of this will be available as they occur in real time. With the app, which has already been downloaded 400,000 times, you get a notification when the President is about to speak.
Although the White House app is available for the Android and iOS platform, any mobile browser using a different OS can use the optimized mobile White House web page at
http://m.whitehouse.gov
.
source:
TheWhiteHouse
via
Engadget