Android smartphone shipments to pass the one billion mark next year
20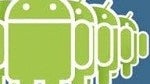 Zero to 1,000,000,000 units in five years – that is an impressive feat, and that is how long it will take Google's Android platform. IHS reports that based on current forecast data, cumulative global shipments of devices with the Android operating system will earn nine-zeros on its counter in 2013.
The forecast does not stop there, as an analyst for IHS is quoted as saying, "The Androids are taking over the world of smartphones." Annual growth rate is expected to continue at a double-digit percentage rate for the next few years, reaching a global penetration of three billion by 2016.
This is a boon for the brands that are known for selling Android devices by the truck-load, like Samsung, HTC, Sony and LG (plus Google's own Motorola). It is also telling of just how big the challenge is for the competition in the face of such staggering growth.

Source:
Digitimes