And that's how you take care of people using smartphones at the table
16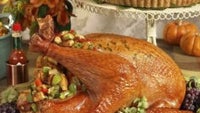 Using a smartphone on the table isn't polite, especially when you've gathered around on a holiday such as Thanksgiving. It's just wrong on multiple levels: you're being disrespectful to the one who spent the entire day cooking all the food, all the while distracting yourself with non-sense instead of enjoying the time you're spending with your loved ones.
However, how far would one go just to make sure that smartphones don't spoil their immaculate Thanksgiving dinner? Hopefully not as far as the lady in the latest comic by Nitrozac & Snaggy. We kind of dig the idea of decorating the signal-blocking bag, though. The crowbar method, on the other hand, we aren't too fond of.
If you're also among those folks who just can't last more than a few minutes without checking their smartphone, drop us a line down in the comments!