American Express never agreed with Google Wallet deal, discussions still undergoing
2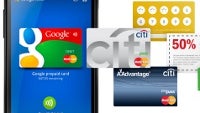 Remember a couple of days ago when Google seemed to have sealed the deal with all major credit and debit card providers including American Express. Oops, we meant excluding American Express. Google boasted it's got
all credit card companies on board with Google Wallet
, but American Express found out about this from Google.
An American Express spokesperson contacted TechCrunch to say
Google had never
"gotten our approval for the additional use."
Now, that doesn't mean you actually can't add your AmEx card on Google Wallet. You can, but it's just not officially confirmed that the whole thing would work after a while. Google has responded saying that
"active discussions"
are taking place.
Folks at Google also said they
"look forward to working together as partners as the world embraces digital payments."
source:
TechCrunch
Recommended Stories