America celebrates freedom in Jon Stewart's portrayal of the Verizon iPhone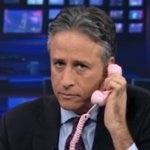 You might think that the rumors aboutthe Verizon iPhone went a little over the top in the last... let'ssee, a couple of years? Well, we cannot agree with you more, but thewhole saga finally came to a happy end and there is no better placeto turn for the complete analysis than the Daily Show with JonStewart of course.
The witty comedian took itto the streets of New York city, where the Verizon iPhone wasannounced just yesterday, to see how the crowds are celebrating theirliberation from the "AT&T tyranny". It did not go without acouple of dropped calls and a (un)healthy dose of humor, so check out thewhole video below if you missed the show yesterday!
source: TheDaily Show via Gawker