Amazon listings confirm AT&T and T-Mobile Samsung Galaxy S III, SIM-free units priced at $799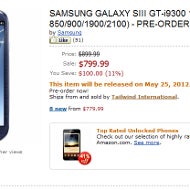 Those
Galaxy S III
models for North America codenamed
SGH-I747
and
SGH-T999
that were approved in the Bluetooth SIG, got indirectly confirmed once again to be the ones heading to AT&T and T-Mobile.
Amazon has a bunch of accessories listed for the SGH-I747 and SGH-T999, which are labeled for Samsung Galaxy S3 on AT&T and T-Mobile, respectively. These include car holders and charger, cases, water-resistant armbands, so we can be more certain now the Galaxy S III will appear on those carriers pretty soon.
As for pricing of the SIM-free version, Amazon is listing $799, with availability scheduled May 25, and first pre-order shipments expected to commence June 4, but these are just imports, not the official Samsung pricing for the US.