Amazon explains how it managed to evenly distribute light on Kindle Paperwhite
2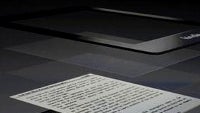 The
Amazon Kindle Paperwhite
is the e-reader many have been waiting for with its illuminated display that makes it easy to read even with the lights off. What's more, it's not just your ordinary screen that shines right into your eyes, but comes with light equally and smoothly distributed to not tire the eyes.
Amazon chief executive Jeff Bezos said the company has been working on this for years, and Amazon engineers explain that it took nearly 8 years to arrive at this.
Obviously, a lot of effort and thinking has gone into that and you can learn all about it at the video below, guiding you through the process that made the Paperwhite possible.
source: Amazon