Amazon Prime's Deal of the Day offers Samsung's best wireless charger at 43% off
0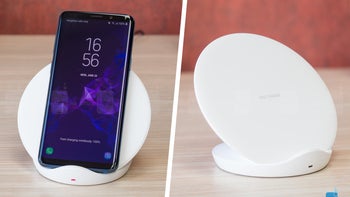 We recently
tested some of the most popular wireless chargers
out there, and Samsung's Fast Wireless Charger Stand (2018) made the cut as the best non-budget option out there, at $50-$70 retail, depending on its color version.
Samsung's Wireless Charger Stand topped up a
Galaxy S9
fastest among all the chargers that we tested, for less than 3 hours, which is an impressive feat for this type of electron-hurling, plus you get to keep using your phone while it's propped up on the stand, or have a clear view of the always-on display info.
What if we told you, however, that Samsung's latest
wireless charging
stand is priced as a budget option as an Amazon Prime Deal of the Day? Yep, the blue version, which has a $69.99 MSRP, can be had for $39.99 today, a whopping 43% cut. While there are $20 wireless chargers out there, they are usually limited in performance and certification, while decent ones start in the $30-$40 range, where you can now get the Cadillac of chargers-sans-cable.
This pricing is part of the Amazon Prime Day countdown to July 16th, when the shopping event kicks off officially, so head over to the link if you are interested in scooping one of the best wireless chargers out there for 57 cents on the dollar.