Alltel launches glossy colorful LG AX8600
73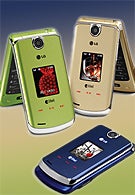 Alltel just launched its version of the LG VX8600 (which has been offered for months by Verizon Wireless in glossy black color, resembling the Chocolate), called
the AX8600
. It is available in three joyful colors, including Vivid-Blue, Lime-Green and Champagne-Gold. All of them are available for $50 after rebates and with contract.
LG AX8600 is absolutely identical to the VX8600 when it comes to specifications and it has the same electrostatic music-control keys on the front cover. 8600 features 176x220 pixels internal display and additional color external one,
1.3
-megapixel camera and microSD slot.
LG AX8600 Specifications
source: Alltel