Alltel launches first Fastap phone in the US - LG AX490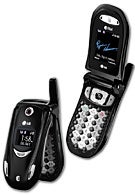 By introducing the LG AX-490, Alltel becomes the first US carrier to launch a phone featuring the innovative FastapTM keypad. The keypad sports double functionality by integrating the traditional 12-number keypad together with 26-letter keyboard with raised buttons, and thus allowing quicker and easier data entry ease which means simplifying Text Messaging, Instant Messaging, Picture and Web Browsing. It also features a multimedia function to quickly view and share photos right from the phone. Other features of the new handset include 262k colors 128×160 pixel display, VGA camera with flash, Speaker-independent voice recognition, as well as Bluetooth support.
The scheduled launch date of the LG AX490 is August 3, and it will be available in Alltel retail stores and on the carrier's web site at a price of $59.99 after a $40 mail-in rebate, with a two-year contract.
Source:
MobileTracker