After last year's $378 million, Apple chief executive got $4.2m in 2012
21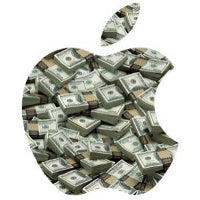 In 2012 for the first time Tim Cook spend a full year as Apple's chief executive officer, but while you'd expect that his salary would be more, in reality Cook's compensations shrank to just around 1% of his last year's salary.
Apple's CEO receive $4.2 million in compensation in 2012, much less than the $378 million he got in 2011. Of that $4.2 million, $1.36 is the actual salary and $2.8 million is compensation from incentive plans.
Last year multi-million compensation, of course, was so high mostly because of $376.2 million in stock that will reach maturity in 10 years.
Interestingly, this year Apple's chief financial officer Peter Oppenheimer received a massive stock award of $66.2 million, and his total compensation exceeded that of Cook multiple times.
source:
The Next Web