After LG, Microsoft on track to sign up Pantech in Android licensing deal
9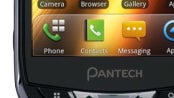 The massive success for
Android
might at first sound like bad news for Microsoft, but come to think about it - Redmond gets licensing money from 70% of Android phone makers, and after it got LG to sign up a deal, now it's ready to sign Pantech up as well. Pantech is the third biggest phone manufacturer in Korea after Samsung and LG.
"We are in talks with Microsoft over the patent use, but specific details have not yet been decided,"
a Pantech spokesperson said.
There are no specific details on the amount of money Microsoft gets from
intellectual property
on each Android device, but a leaked HTC-Microsoft deal suggested $5 per handset.