Acer Liquid A1 moves up the ladder with Eclair now in tow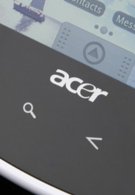 Regarded as being a sleeper hit by some, Acer was able to assert themselves as a decent Android handset manufacturer after they released the Acer Liquid A1 and its eventual successor; the Acer Liquid e. Although the Liquid e substantially managed to tangle with some of the heavy hitters in the Android world, it clearly boasted Android
2.1
over its predecessor – leaving the Liquid A1 somewhat in the dust. Despite having to wait out a lengthy period of time, Acer Liquid A1 owners are probably going to be ecstatic to know that Android 2.1 Eclair has found its way onto the handset – at the same time, slowly dwindling Android's fragmentation. Consumes can now still gravitate towards this handset now that it's pretty much on the same page with most other contemporary offerings out there in the market.
Acer Liquid A1 Specifications
|
Review
via
IntoMobile
If you have some interesting info that you'd like to share with us, feel free to
Tip Us!