Accessories for Samsung Instinct HD start to appear at Best Buy
This article contains unofficial information.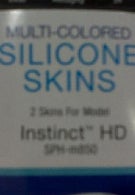 Just as seeing birds flying south is a sign that the seasons have changed, finding accessories for an un-launched phone is a clue that the model will soon be released. Our last
report
had September 27th as the likely date when we would see the Samsung Instinct HD hit the cash registers at Sprint. With just one week until that day, some sharp-eyed shoppers at Best Buy noticed that the big box retailer has already put out for sale some items made specifically for that handset. If you're planning on picking up the phone, you can mosey on over to your local Best Buy and buy some silicon protection for the device. As the Boy Scouts say, "Be Prepared".
Samsung Instinct HD Preliminary Specifications
source:
EngadgetMobile