AT&T to update Samsung Captivate with Android 2.2 on Thursday
6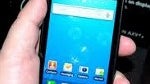 As we
reported
last week, owners of the Samsung Captivate had a brief window of opportunity to upgrade their device with Android 2.2 before Samsung pulled the upgrade. Now, AT&T has announced on its Facebook page that Captivate owners will get another shot at Froyo starting Thursday.
The carrier wrote on Facebook that it would post a link to Samsung's site with directions on how to install Froyo onto the handset. With this in mind, it would seem that this will not be an OTA upgrade.
Now that the Captivate is in the fold, that leaves the Samsung Fascinate left as the remaining original 3G Galaxy S models in the U.S. waiting to receive Android 2.2. The pressure is now on Verizon to bring the Fascinate up to par with the Captivate and Vibrant.
source:
AT&T