AT&T spills details on iPhone 3G pricing
60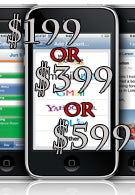 Last month, when Steve Jobs introduced the iPhone 3G, the price tag of $199 for 8GB and $299 for 16GB were announced. However, these are the prices just for new customers and ones, eligible for upgrade.
If you don't fit into one of these categories, you'll have to spend $200 more, $399 for 8GB or $499 for 16GB. In both cases, a two-year contract is required.
For those who don't want to sign with AT&T, "coming soon" are $599 8GB and $699 16GB variants, which won't require a contract.
source:
AT&T
Apple posted a guided video tour on the iPhone 3G, explaining what's new.
Check it out
.