AT&T launches new USBConnect modem named Quicksilver
24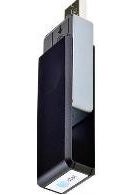 AT&T has expanded its portfolio of LaptopConnect devices by introducing Option's award winning design USB modem called the Quicksilver. Supporting the Icera Livanto chipset, making it the first USB modem to do so, enables Quicksilver to deliver HSPA speeds efficiently.
The 1.2 ounce USB modem supports quad-band frequencies for GSM/EDGE and tri-band for UMTS/HSPA enabling international 3G roaming. The plug and play USB modem is compatible with Windows and Mac alike. The design of the modem enables one to protect the device from damage with the help of the swirl motion that tucks away the USB modem.
The Quicksilver is available for free after a 2 year contract.
source:
AT&T