AT&T and T-Mobile to offer cell service on NYC Subway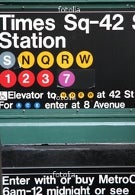 The stereotypical NYC subway rider, holding a folded copy of a newspaper in one hand and the strap in the other, is about to undergo a massive change. Picture a number of excitable New Yorkers chatting away on their cellphone, or using their smartphone to gather the information that they relied on the papers for. AT&T and T-Mobile have both agreed to a deal to offer cell service on the Big Apple's subway system.
The two GSM operators have agreed to offer their service to Transit Wireless LLC, a company that is building an underground network in New York City. Both carriers signed a 10 year contract that gives each of them the option to renew the pact 4 times for a 5 year period each time. Transit Wireless LLC received funding back in July to build an underground network for the city's 277 underground subway stations.
source:
Bloomberg