AT&T Wireless to offer Audiovox Pocket PC 2003 device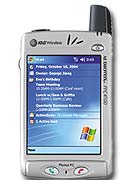 AT&T Wireless and Audiovox announced the PPC 4100, an integrated wireless PDA phone featuring Windows Mobile 2003 software, will be available in June 2004 and showcased for the first time today at Microsoft's Tech Ed conference in San Diego, CA. The PPC 4100 will be available for $349 after a $50 instant rebate.
The PPC 4100 is a tri-band (850/1800/1900 MHZ) GSM™/GPRS Pocket PC and runs Windows Mobile 2003 software for Pocket PCs on a 400 MHz, Intel XScale® technology based processor. With 64MB RAM and 64 ROM and built-in SD/MMC expansion slot, the PPC 4100 also facilitates easy storage of and access to large files.
Full specifications and features are available @ PhoneArena.com.