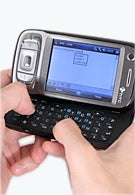 After months of rumors, AT&T finally announced the successor of the 8525, the AT&T Tilt which will be available for purchase tomorrow, October 5, for $299.99 with two-year contract. It has similar form factor, but after its full QWERTY keyboard is revealed, the 2.8" QVGA touch display can tilt at an angle for more comfortable usage.
This is the first Windows Mobile 6 (Professional) device AT&T will offer and comes with all the benefits of this OS. Featuring integrated GPS, Tilt also comes with Telenav application for navigation, but others can also be installed. As it is quad-band GSM and tri-band HSDPA device, the Tilt will take advantage of AT&T's high-speed HSDPA network but can also use local wireless LAN ones, as it has WiFi.
If you are not familiar with it, please read our
AT&T Tilt Review (TYTN II Review)
or view its
specifications.
source: AT&T