AT&T HTC One X already $150 from Amazon Wireless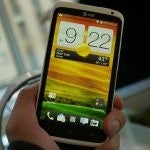 As usual, it didn't take long for the AT&T version of the
HTC One X
to get slashed to $150 at Amazon.
You get a unibody polycarbonate chassis, 4.7" Super LCD2 HD display, Snapdragon S4 processor, 16GB onboard storage, and 8MP camera, as well as access to AT&T's fast 4G LTE netwrok, not to mention the pretty Android Ice Cream Sandwich with HTC Sense 4.0 for filling.
AT&T gets whatever you shell out to it during the 2-year contract, if you keep the phone after 30 days, and Amazon gets $250 plus taxes, should you cancel the service before six months have passed.