AT&T Fuze for $149.99
3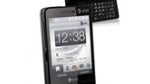 The elegant yet powerful AT&T Fuze is being offered at Newegg for $149.99 after a 2-year contract and mail in rebates.
This price beats AT&T's price of $299.99 on contract. With a crisp touchscreen display and a 3.2 megapixel camera, this is the cheapest the Fuze has been since its launch.
Why this TouchFLO 3D device is more expensive through AT&T themselves? Well, it's the same as if asking what came first, the chicken or the egg? In this case, it's Newegg.com.
AT&T Fuze Specifications
source:
Newegg
via
IntoMobile