A set of W series handsets from Motorola wait for their release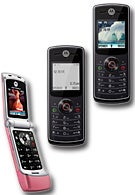 Motorola announced today the presentation of seven new handsets - W156, W160, W175, W180, W206, W213, and W377 which will be available before the year ends. All of them, excluding W377 will possess the CrystalTalk technology, which is said to automatically adjust the sound level according to the noise environment. Despite that most of them have identical features, and a few of them (W160, W180, W213 and W377) also have FM radio.
The most feature-rich model is the W377 packing MP3 player, VGA camera, Bluetooth and 10 MB memory.


Source: Motorola