A quick reminder: HTC unveils something tomorrow
5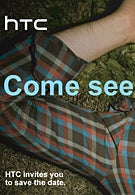 The world´s largest manufacturer of Windows Mobile smartphones holds an event in London tomorrow.
At previous such event
that took place about a year ago (on 6 May 2008), HTC announced one of their most popular cell phones -
the Touch Diamond
and showed their TouchFLO 3D interface for a first time.
This year the focus is expected
to fall on the Android
. The rumor has it the
HTC Hero
will be officially announced, along with a new operating system user interface, called Rosie. We hope the manufacturer surprises us pleasantly and shows off other aces they have up the sleeve.
We will be reporting the event in London live, so keep your eyes open and read our leads tomorrow.