A new entry level LG model for AT&T?
This article contains unofficial information.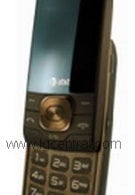 According to LG Central, the Korean based manufacturer is about to launch the LG GU290. The device is an unannounced slider that looks to be an entry level model. A picture of the handset wearing AT&T branding shows a slider with a regular telephone dial pad with four buttons (2 on each side) surrounding a D-pad. The whole handset looks thick and somewhat clumsy looking and we would agree that the carrier will probably not be asking for too much to pick up this model. After all, it comes from a line of other budget handsets like the GU230 and the GU280. No info has been made available on specs or features and you know that as soon as we hear something more about the LG GU290, we will pass it on to you.
LG GU230 Specifications
LG GU280 Specifications
source:
LGCentral