7 car brand apps that are compatible with your Apple Watch
3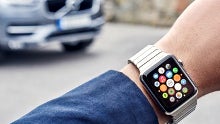 Did you know you can start your BMW and set the interior temperature from afar with your Apple Watch? Yep, and there is a growing number of car makers that are either adapting their car applications for the realities of the smallish Apple Watch screen, or outing brand new versions with wrist-friendly interface in mind.
From simply finding where you parked, to remotely locking, preheating or cooling or vehicle, the car apps compatible with your Apple-made timepiece are here to facilitate the interaction, plus, let's face it, it is much more comfortable to simply look at your wrist while driving and receiving a message, rather than fumble for your phone, or look at the infotainment system in the central console.
Check out which brands are out with or prepping to launch Apple Watch-compatible car apps in the slideshow below.