62 apps up and running simultaneously on Samsung i8910 HD
This article contains unofficial information.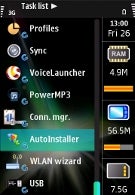 It just might be a world record, but if not, it still is quite an impressive feat. What we are talking about is a Samsung i8910 HD running some custom firmware designed by "HyperX" who posted this amazing achievement on his own blog. Including Handytaskman, the number of apps is actually 63 and when you watch the video below, you will see that this number of open programs is certainly a heavy load for the S60 OS. Also a stunning feat is that the handset had 194MB of free RAM after booting. Of course, it is unlikely that anyone would ever need to replicate this experiment in regular, every day usage, but it is nice to know that with the right ROM, you could make it happen.
Samsung i8910 HD Specifications
|
Review
source:
HX-Custom-Roms
via
allaboutsymbian