60 apps downloaded on each iOS product
5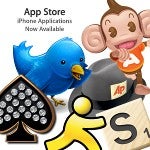 As the App Store is just about to passthe 10 billion downloaded apps mark, Asymco took some statistics foranalysis to find out that an average of 60 applications aredownloaded on each Apple product with iOS. The staggering number doesnot necessarily denote paid apps, but nevertheless comes to show astronger tie between the Apple ecosystem and its users.
The topic is particularly interestingas Android devices are gaining momentum and switching betweenplatforms will require leaving all the apps of one platform behind.The data also shows that if appdownloads grow at such a rate they will outnumber iTunes songdownloads by somewhere around March 2011.
The Asymco report also mentions thatend user investment in apps is more than in songs, which boosts theimpact of apps on other media. Did you invest much in apps and do youfeel tied to Apple's (or Android's) ecosystem?