6 unusual racing games for Android
1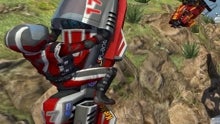 We don't need to tell you just how popular
racing games
are, because everyone already knows that. But it seems that too many of the games that slide into this category don't really offer much to make them stand out.
So we wanted to see if there were any Android racing games out there that are different, and, sure enough, we did find some (though not as many as we'd have wished), and we're presenting them below, in alphabetical order.
Of course, if you know other unusual racing games for Android, we'd be glad if you'd tell us about them in the comments section.