6 cool Xperia Z4 concept renders envision Sony's upcoming flagship
31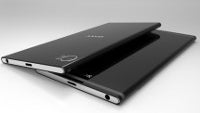 Nobody's really sure when the Xperia Z4 will hit the market, but it seems quite likely that Sony will miss its promised 6-month refresh cycle, seeing as the Xperia Z3 was announced over 6 months ago, and its successor is still to make an appearance.
We nevertheless have a few ideas
as to what you should expect, but today isn't about that. Today, we talk Xperia Z4 concept renders.
Now, much like concept cars that manufacturers regularly wow us with (only to disappoint later), smartphone concepts are usually a bit out there. Obviously, a fan artist doesn't really have to consider the many, many variables that go into the making of an actual, working device, and so has much more creative freedom. That said, it isn't at all uncommon for concept phones to look both great and technically feasible. We picked six of those.