51 Percent of CIOs Planning Tablet Deployments in 2011
2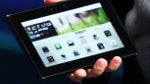 There are
some indications
that tablets are getting momentum, and the figures below add weight to these claims - 51% of the CIOs that took part in this Morgan Stanley sample said they are planning to equip their employees with tablets in one year time.
Among the 50 CIOs that were surveyed by Morgan Stanley, 21% are already buying tablets for their employees (on top of the 51% that are planning to do so) and, all in all, 67% of them "said they're either planning to deploy tablets or provide support for employee-owned ones this year".
The idea that we're to see a mass adoption of tablets in the enterprise world is reiterated by Good Technology's data - according to it, 29% of its new enterprise activations (of its software) were made by pads.
Are tablets turning into the business user's best friend?
via:
All Things Digital