5-megapixel LG KU990 Prada-like phone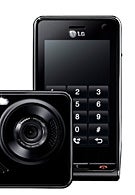 KU990 Viewty,
its newest cameraphone. The successor of the KE850 keeps the Prada-like look but goes to 3G (HSDPA) and 5-megapixel camera with Xenon-like flash. The lens are still Schneider-Kreuznach branded and the camera will be able to shoot with up to 800 ISO, which we are not sure will be usable in a phone, due to the higher noise levels at such sensitivity.
Like the Prada phone, the KU990 is a small glossy black candybar with just a few keys. The front houses the 3-inch 240x400 wide-angle touch display.
The LG KU990 will be available from October in Europe.