5 Galaxy S5 features that the HTC One (M8) lacks
59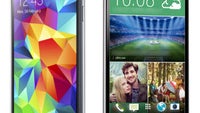 After we took a look at some of the
best differentiating features of the HTC One (M8)
in comparison with the Samsung Galaxy S5, it's now time for Samsung's flagship to strike back. Just to refresh our memories, in our previous article, we highlighted the following HTC One (M8) features:
BoomSound stereo speakers
Premium design
More accurate screen
Uniform user interface
Seamless refocus functionality
Wow, these are some wonderful features, but sadly, the Galaxy S5 will most probably never have them. Now, let's see what Sammy's proposition has in its arsenal to counter HTC's maneuvers!