3CX Phone System 12 Review
3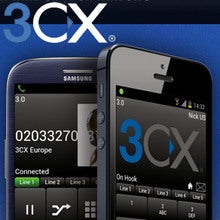 This story is sponsored by 3CX.
PhoneArena's opinions in this article have not been affected in any way!
Not long ago, we were given the chance to test drive
Mobile Device Manager by 3CX
. Targeted at business customers, it is a remote control and management software tool designed for smartphone and tablet use, and it is a well-made solution, we must add. Now, our attention is focused on another product by the very same company.
Introducing
3CX Phone System 12
– an enterprise-grade software PBX (private branch exchange) meant to meet the telephony needs of both large and small companies. In other words, it is used to create a virtual telephone network, over which employees can communicate via their VoIP phones, PCs, even their iPhones or Android devices. And since all phone call traffic is handled over a local IP network and not by a telephone company, the actual phone calls don't cost a dime. Besides, there is no need to install any additional wires throughout the office, or to expand the company's existing network infrastructure. We've been testing the software for a while now and we can confirm it is worth trying.
Setting up 3CX Phone System 12 isn't a job anyone can take care of. It took us quite a while to get the server up and running at the office and to familiarize ourselves with its features. However, let us not forget that the software we're dealing with is tailored for enterprise use. Therefore, chances are that an IT expert with the necessary skills is going to handle its deployment, and to them, the setup process will be like child's play. Besides, the developers have provided a detailed user guide to go along with their product. By the way, the Phone System 12 server doesn't have to be installed on a dedicated machine, as long as it isn't handling a really large number of extensions. It ran on one of our office computers just fine, without affecting its performance at all.
Once the 3CX Phone System 12 server is set and ready to go, the system administrator may start adding extensions, which are the phone numbers associated with each device on the network. These can be entered manually one by one, or imported from an existing contacts database. The process is pretty straightforward and we did not encounter any problems while filling up our contacts list.
The administrator console, accessible on the server where 3CX Phone System 12 is running, is where the entire service is being managed from. It provides valuable tools for controlling the system's operation and monitoring its status, which is essential for ensuring that it runs smoothly. Key features include:
Adding VoIP service providers
Adding PSTN gateways
Managing the company phone book
Configuring office hours and call forwarding for each extension
Grouping extensions for easy rights management
Setting up fax machines
Both these apps, however, leave room for improvement. The actual call quality, for example, could have been better. Sure, we are easily understood on the other side of the line, but our voice sounds artificial and digitized. Nevertheless, we can confirm that the system manages to keep the call going smoothly even if a phone on a poor Wi-Fi connection is used. Another issue we noticed was that the Android client took a significant toll on our phone's battery even when it was just waiting for incoming calls in the background.
We were unable to get the iPhone client for 3CX Phone System 12 to work. The app would either not register with the system, or would crash on its own. Switching accounts and re-enrolling the extension didn't help.
So there you have it: 3CX Phone System 12 isn't perfect, but it is a very capable solution for small and large businesses who want to streamline the communications throughout their offices using a contemporary VoIP service. We just hope that the mobile applications made for it will be developed further as their quality isn't at the level one would expect out of a premium product. Anyone is free to give it a try by
downloading 3CX Phone System 12 from the company's web page
and the respective mobile client for
Android
or
iOS
.