3CX Mobile Device Manager review
1

This story is sponsored by 3CX.
PhoneArena's opinions in this article have not been affected in any way!
Let's say that you're in charge of a company, and your employees rely on their smartphones and tablets to get their job done. Chances are these electronic devices store and handle information you want to have total control over. Or perhaps you're an individual who needs a tool of some kind capable of managing your smartphone or tablet over the air – something that can change its settings and track its location. Well, 3CX Mobile Device Manager would be the software to use in either case.
As the name implies,
3CX Mobile Device Manager is an application for accessing and controlling an Android or iOS based smart device remotely, be it over the internet via Wi-Fi/3G/4G, or through a corporate wireless network.
We've been playing with it for a while now and we can confirm that the app is totally worth trying.
Key features include:
Remote lock via password
Remote wipe
Device location tracking
Remote access to a device's files
Remote application management
Remote Wi-Fi network management
Sending group or individual messages
Remote email configuration
Obtaining device information, such as battery life, call history, contacts list, system logs
Remote control (Rooted Android devices only)
Setting up 3CX Mobile Device Manager is a bit of a ritual and does take some time and patience. However, the whole configuration process has been streamlined with step-by-step instructions, which aid the user along the way. An in-depth user manual for the app is also available, describing how each of the app's features is used, but to be honest, we didn't have to consult with the document as the 3CX Mobile Device Manager is pretty simple to set up.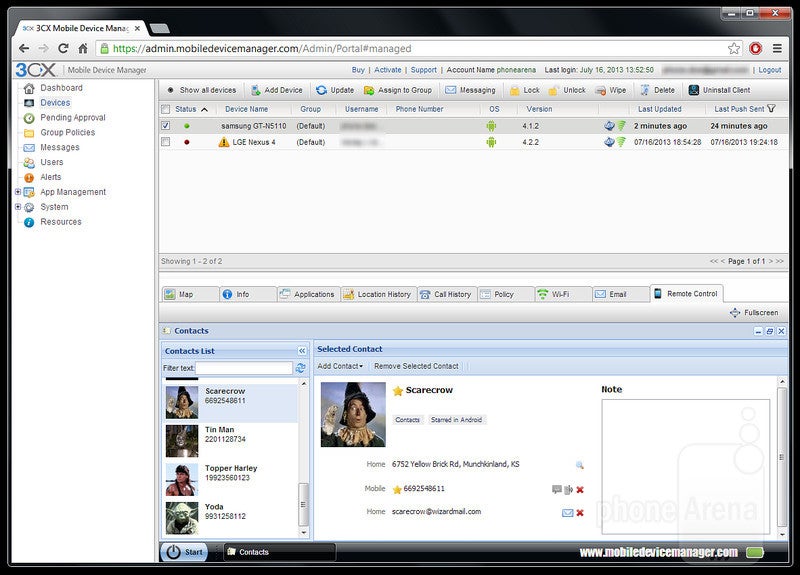 The 3CX Mobile Device Manager admin UI runs in a web browser
After the registration process is complete, the user is presented with the 3CX Mobile Device Manager interface. The whole thing is made to run in a computer's web browser, meaning that there's no need to install any software onto the administrator's machine. Besides, one can manage their mobile devices via any computer they have access to, which is really convenient. Each smartphone or tablet that needs to be managed, however, has to have the 3CX Mobile Device Manager agent installed on it, but that can be easily downloaded free of charge via Google Play or the Apple Appstore.
Each mobile device that has the 3CX Mobile Device Manager agent installed and enabled will be ready to be managed remotely within seconds. Once can instantly view its call logs, edit contact details, access its files, modify Wi-Fi settings, and more. Setting up email accounts is a bit trickier, however, as it requires the installation of additional software.
Locking or wiping a smartphone or tablet remotely couldn't be any easier. This feature would be really useful in case a device gets misplaced as it prevents others from accessing sensitive data. Moreover, a smartphone can be locked via SMS as well in case its internet access has been cut off.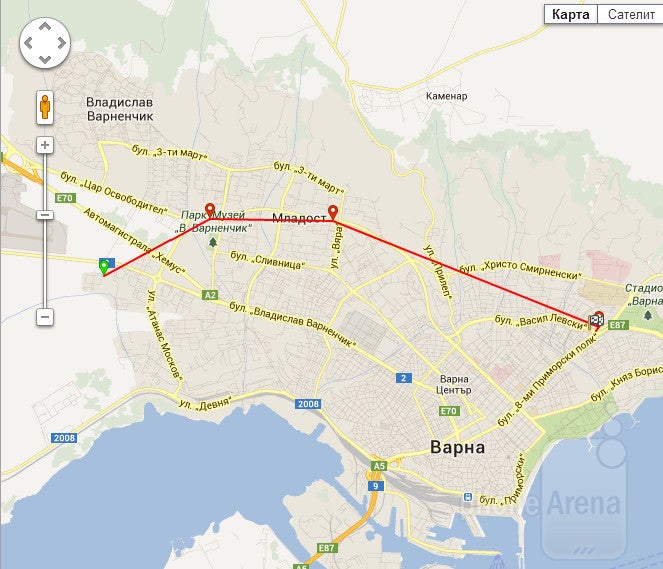 Remote tracking with 3CX Mobile Device Manager
The remote tracking feature works like a charm. Each device's position is pin-pointed on a map immediately, allowing one to retrieve it if stolen, or to simply keep an eye on their employees. Moreover, the software automatically logs each device's location over time and the data collected can be used to trace the whereabouts of the smartphones and tablets managed by 3CX Mobile Device Manager.
In conclusion, 3CX Mobile Device Manager is a useful, well-made software tool. The whole platform is easy to use and does well everything that it's supposed to, just like any premium software product should. Business users would surely appreciate the remote management features this application has in its arsenal, while the remote lock and wipe options would surely come in handy in cases of emergency. But even though 3CX Mobile Device Manager is clearly targeted at corporate customers, individuals are also free to give it a try. Anyone who wants to use the remote management platform may do so at no cost for up to 5 devices. To get started with this great service, just visit the
3CX Mobile Device Manager web page
.